I had a great b-day. Full of fun little things and surprises. My time with Amy and Beth last week was so fun. Laughing, relaxing, shopping. I love our trips. A surprise dessert party with some friends made me feel all warm and fuzzy. Shane gave me a sweet sweet card that made me tear up a bit and get even more excited about him being done with the bar exam soon. My client gave me a starbucks card at our shoot yesterday morning which was a such a great surprise(Thanks Angie!). And last night my momma took me to
my favorite restaurant
and then to get a pedicure. Heaven.
Besides my jeans I got a few other awesome things as presents. My mother in-law got me a pair of Ugg boots. I realize that I am approximately 4 years and one season behind on the Ugg bandwagon, but that is how I roll. Every winter I wish I had some and now I will. My mom got me this incredible camera bag that I have been wanting called a
shootsac
.
Its incredible and I can't wait to use it!
This wasn't a b-day gift, but this awesome bow holder came in the mail from my friend Carmen last week..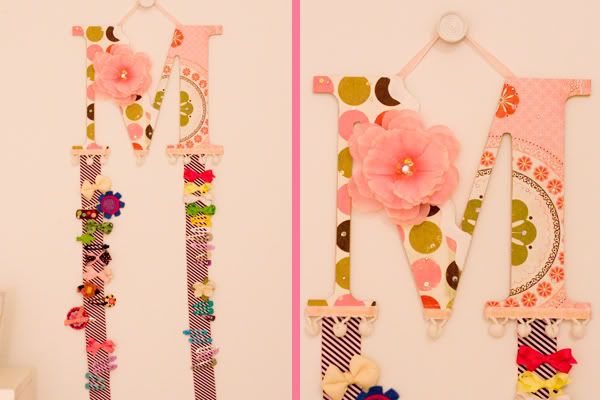 Cute eh? I forgot we had all these great bows until I had someplace so adorable to put them. Check out
Carmen's etsy store
she can do any letter and coordinate it with your room colors. It would make such a cute gift!
Finally, I will leave you with my favorite conversation of the day...
E: Hey, I'm going to the grocery store, what would you like to have around for studying?
S: Um, I need some snacks. Like not really healthy, but kind of healthy stuff that would be a good snack.
E: Like what babe?
S: Oh, I don't know. Just get a bunch of Little Debbies.
Oh Shane. You make me laugh. Lets say an extra prayer for me OK friends? When Little Debbie enters this house it makes keeping all this weight off even harder.