I realized the other day that I haven't given an update on Shane in a while. The question I probably get asked most often these days is "What is Shane up to now that law school is over and he passed the bar?". The short answer to that question is that he is still at the job he had through school. He is exploring a few options here and there, but for now is mostly just enjoying being a free man again and hanging out with us.
Marlie and I are very much enjoying having him around again. Nights free for fun, frequent movie and popcorn nights. Its funny how quickly I forgot what it used to be like. One night last week he was out somewhere and so I did the dinner and bedtime routine by myself and suddenly I remembered that it used to be like that every single night. That was hard.
Life is much more fun with Shane around. I laugh a lot more than I used to. Sometimes with him and sometimes at him. Either way, we keep each other smiling. I love his quirks. Favorite Shane quote as of late...
"My hair needs something. Like what if it were curly? If I got a perm would people know I had a perm or would they just think 'Wow, his hair looks good curly'?"
Now, while we are at it lets check in with Miss Monkey Pants. We are having so much fun with this kid. All of a sudden she is so grown up! Every day she says something new that amazes me. Yesterday we were in Home Depot and she said...
"I been to dis place before mom. Dis place is where people buy tings, buy tools a fix their homes."
I was floored.
She is suddenly very in to dancing and anything Disney princess or any kind of princess for that matter. She clomps around the house in her dress shoes and tutu. I didn't think she was going to be a very girly girl so its a little surprising really, and very cute.
She has such a sweet spirit. She has really gotten in to having "buddies". Everyone is a buddy to Marlie. Today on the way to school we saw some work men on our street and she said "Hey look mom, buddies. I love those worker men buddies." Perhaps we need to have another talk about strangers?
She is standing firm against potty training. I'm not worried....yet.
I kiss her sweet cheeks many times a day. It usually bugs her, but I can't help it. She has a new way of smiling for the camera that makes getting a good shot of her a little hard....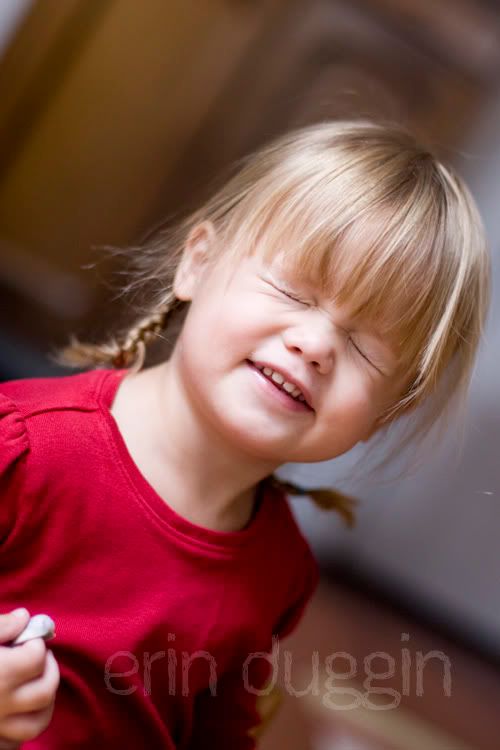 but then sometimes I can catch her off guard and get a good one...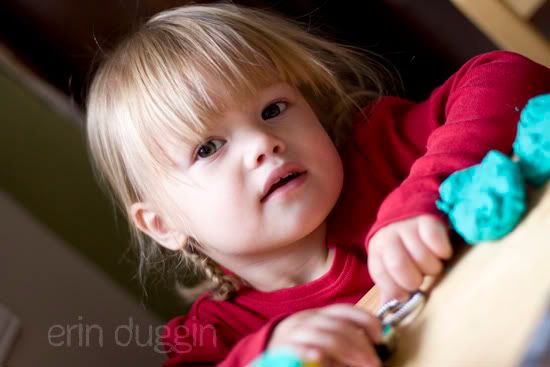 I guess that's it. The Duggins are doing well. Hope you are too!