The bar is over. My husband is home and we are slowly settling in to a calmer, more comfortable schedule. I don't think it has really sunk in yet. I shot a wedding this weekend so I was gone and then yesterday it turned in to a three ring circus around here. I won't go in to it, but it wasn't fun. Goal for the week: be still and enjoy life.
One little anecdote about this quirky husband of mine...
I went in to our office the other day and peered in to a backpack to see what was in there. I realized it was the bag that Shane took to take the bar exam when I saw about five hundred flash cards in carefully organized stacks and one cassette tape...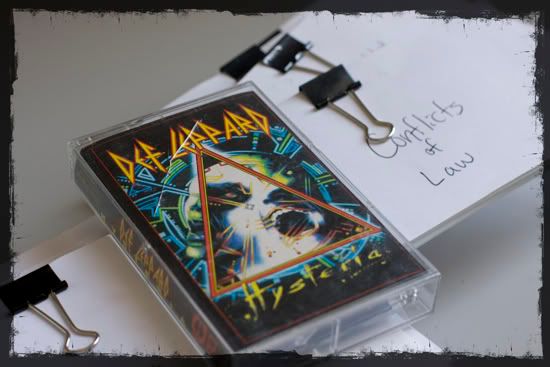 When I asked Shane what the story behind the tape was he said he listened to it to pump him up for the exam. Specifically the song Animal. I was giggling of course and Shane retorted with "Babe, Hysteria is one of the greatest albums ever made." I love that guy.
So in honor of Shane let's enjoy some Def Leppard today...