Now that Shane is home for more than 5 minutes for dinner I have been trying to be better about making good meals instead of throwing together grilled cheese or frozen pizza every night. Last night I made one of our favorites around here and I thought I'd share the recipe with you.
I did not make this recipe up. I got it from my friend Sarah who is one of the best cooks I know.
Start with the dough. In a bread machine add these ingredients in this order...
1 1/2 cups room temp water
2 Tbsp olive oil
2 Tbsp honey
3/4 tsp salt
4 cups flour
2 1/2 tsp yeast
Press the dough cycle button and let it go to work. I don't know how to make this crust without a bread machine. Sorry peeps. I'm sure you can find a good crust recipe online. The crust is just part of the yumminess so another crust would do.
Preheat your oven to 450. When the dough is ready take it out and roll it on a floured surface.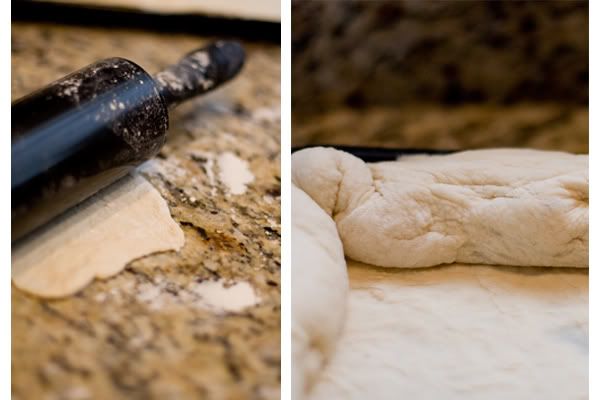 Make sure and roll it out really thin. As thin as you can get it. If you tear a hole just patch it up.
Lay the crust over your pizza pan. I used a square one this time because the round one was out on loan. The dough should be very thin on the bottom of the pan and then take the access dough and roll in on the edges to make a big crust. Bake it in the oven at 450 until the crust is crispy on the bottom. It will have golden brown spots.
While the crust is baking make the pesto...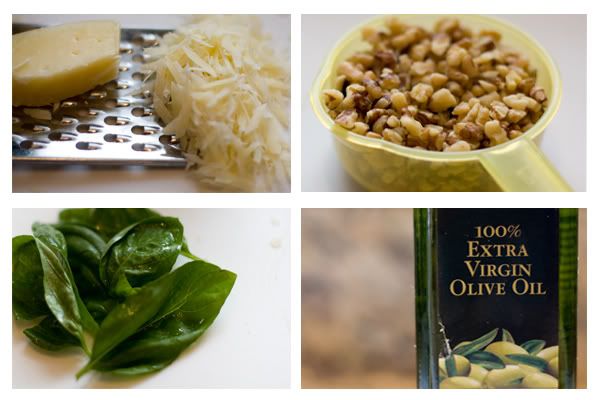 In a food processor mix..
1 cup walnuts
1 tsp salt
1/2 tsp pepper
1 Tbsp minced garlic
3 cups fresh basil leaves
6 oz grated parmesean (try and use the hard stinky stuff but in a pinch store bought will do)
slowly add 3/4 olive oil in a steady stream while mixing.
When the dough is crisp spread on the pesto.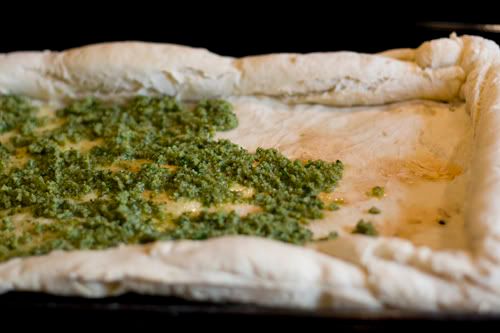 Next add some tomatoes. I used cherry tomatoes this time, but any kind works, even sun dried tomatoes are good. Next sprinkle on some mozzarella cheese. Bake it at 350 until the cheese how you like it and enjoy! And I almost forgot the best part. Dip the big crusts in honey for dessert. So good!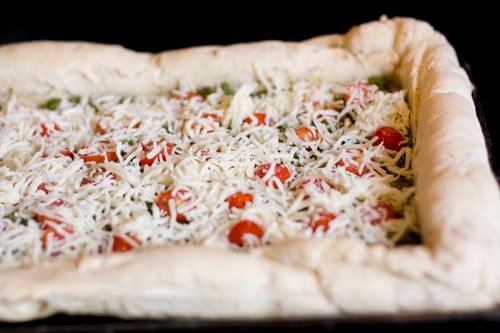 How can you make it easier?... Buy pesto at the store instead of making it or buy pre-made dough.
How can you make it lighter?... Soemtimes I make my pizza on
Flat Out Bread
instead of the crust. Not quite as good, but much more Weight Watchers friendly. Last night I didn't do that so I just used some of my weekly bonus points. And it was worth every point!