7 years ago today Shane and I were just starting our honeymoon in the Smokey Mountains. And we looked like this...

So young, and skinny and probably annoyingly affectionate. I can't believe its been seven years, but at the same time when I think about all the things that have happened in that time it seems like forever. We've lived in 5 different places together, owned two homes, had countless jobs, started and completed law school and of course had Monkey Pants. Its been a great life and I am excited to be entering another phase of it together.
We celebrated our anniversary on Saturday night with a nice dinner out. I must confess that the evening began with a fight at JCPenneys in the bed sheets isle. What better way to celebrate 7 years of marriage? They were having a sale ya see...its a long story. The important thing is that we talked through it and salvaged the evening and I can laugh about it now. At one point the waitress brought out our yummy food and I thought to myself "Wow, I was having such a good time with him that I forgot about the food." I think that is a good sign.
Last week was a little rough around the edges. We were both so very tired. I had some computer problems and ended up getting a new laptop. Which meant spending time setting it up and transferring basically my whole business over. I won't lie, tears were shed. I have little patience for technical problems. At one point I actually visualized myself taking the two laptops, tying them together with a large shiny red bow and then promptly throwing them out the third story window and watching them shatter below.
This new computer and I are on the road to being friends... I think. And our little family is really settling in to our new life together. Tonight for instance we loaded Marlie up in the wagon and headed to our neighborhood micro-brewery for burger night.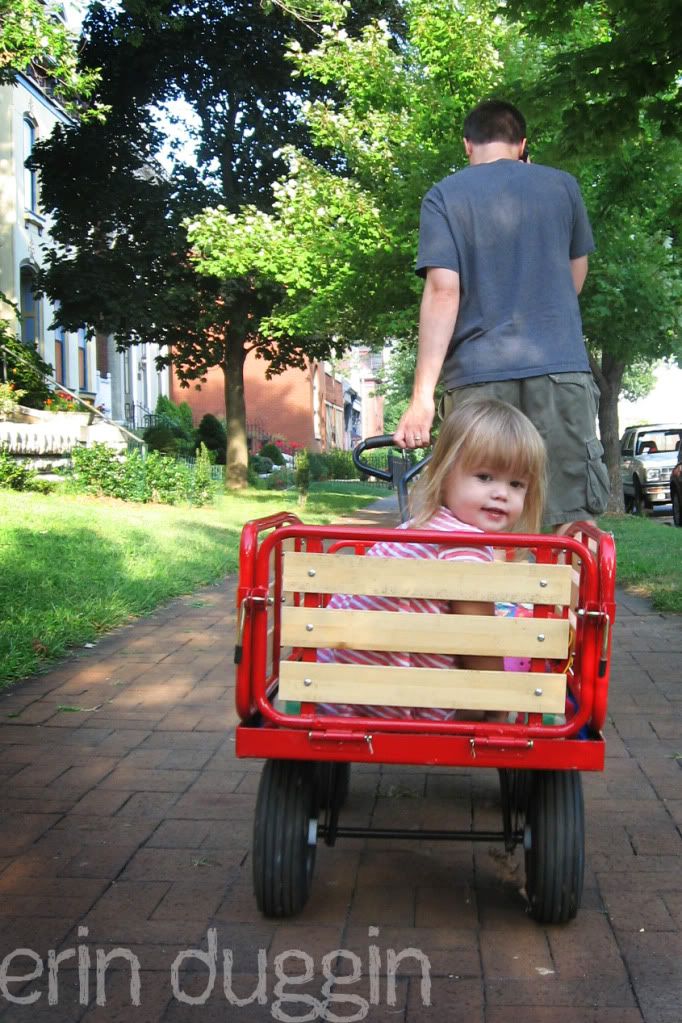 May not seem like a big deal, but I was so excited I got butterflies. Sad maybe... but true. Its the little every day normal things that we rarely got to do when Shane was in school that excite me. When I think about my little family I think about this song. Life is good and I'm so thankful.