Christmas 2009 will go down in my history book as one of the best so far. Christmas Eve was great. I worked my butt off, but it was worth it. The brisket was melt in your mouth good, which was a huge relief. Everyone brought the perfect dishes to go with it. It was so fun having family sit down for a big holiday meal in our home for the first time. The Christmas Eve service at
our church
couldn't have been better.
Christmas morning Marlie slept until 8:30 which is unheard of (lets just ignore the part that it was because I was in bed with her). She and I ran to the window when we woke up and saw huge snow flakes coming down. Perfect. We woke up Shane with our giddy giggles.
The three of us read the account of Christmas in the gospel of Luke, opened our presents together and had our traditional Christmas breakfast of waffles with vanilla ice cream and strawberries.
Marlie said lots of cute memorable things Christmas day. Like when Shane prayed for breakfast. After the prayer he said "Isn't it wonderful that God gave us Christmas? That he gave us Jesus, Marlie? We love God." Her response? "I love strawberries." She also crossed her little arms, cocked her head to the side looking at me and said "Nice hair mom. What you call that mom?" "Umm, bed head " I answered. Priceless.
This is my favorite shot of the day...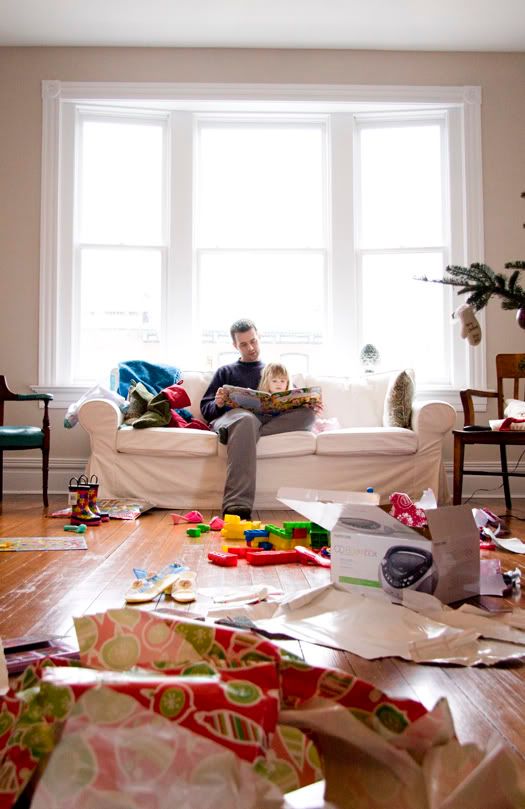 And then there are some things you just can't capture in a photograph. Later in the day I was curled up on that same white couch looking up and out the big picture window at the snow falling. In the background was the sound of Marlie and Shane playing with some new toys and
my favorite Christmas song
playing (
get a great cover of it for free here
). For a few moments the wind was blowing in just the right way so that all of the huge snowflakes were coming straight at the window. I could see the dark branches of a tree waving back and forth and the snowflakes get closer and closer until hitting the window and sliding down in front of me. I thought how beautiful it was and thought about getting my camera and trying to snap a shot, but I knew it was something you just couldn't capture and that the wind would turn and I might miss seeing the moment for getting my camera and then ... the wind did turn.
We headed over to my mom's for some good family time after a nap. Lots of presents and laughing and relaxing. My aunt topped off the Christmas memories by wearing some metallic gold spandex pants this year. I nearly wet my non-metallic pants when I saw them and I assure you they were no joke to her. Pure yuletide awesomeness.
Hope your Christmas was wonderful!