Monkey Pants is in pre-school this year. This means a lot of big girls things such as handouts, a cubby, book order forms, and ... school parties. I found out last month that the day that I was the parent helper was also the day of the Christmas party. Which doesn't mean too much except that I felt like I needed to make a cute Christmas treat to bring. So I decided to make a rice krispy tree on a stick type treat. They turned out pretty cute, not exactly how I pictured them, but pretty cute. I would love to be able to make amazingly cute things like
Bakerella
. But alas, I am no Bakerella.
So, here we go...Krispy Christmas tree pops...
Mix up the rice krispy goo. You know the drill. The recipe is on the box. I am not afraid to buy the generic brand of well....anything, but I've found that generic rice krispies do taste different so I went for the real deal in this case.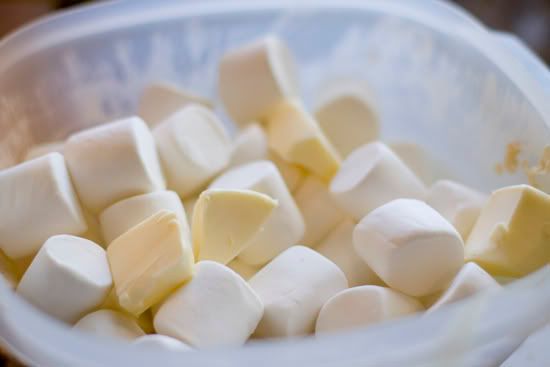 Smash the krispy goo into a flat square on a greased cutting board. Make it at least an inch thick so there is room for the stick in your treats. Use a tree cookie cutter and cut out as many trees as you can.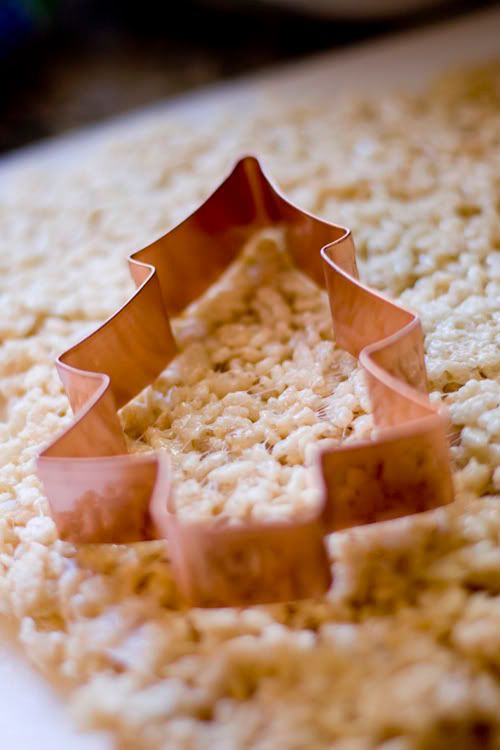 Lay them out on some waxed paper and sprinkle with green sprinkles. Do not bust open the sprinkles seal hastily and send green sprinkles flying all over your kitchen floor like I did. I guess you could make them green by adding a whole bunch of green food coloring to the marshmallow too.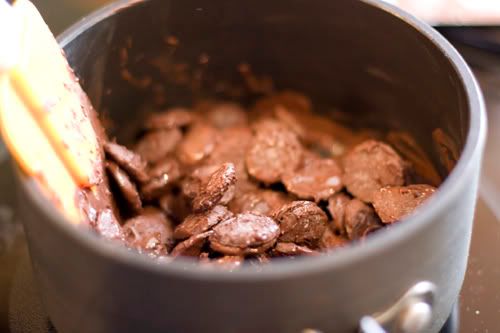 Melt some chocolate. I used this kind, but regular old chocolate chips would probably work too. It says to melt them in the microwave, but I have burned chocolate one too many times that way. Its really easy to do and very frustrating. I did it on the stove on super low stirring constantly.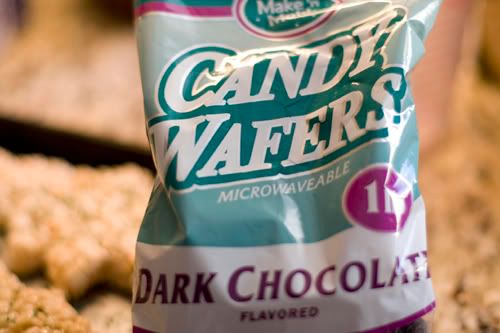 *It is always at about this point in a project that I wonder why I am doing this. Wouldn't buying cupcakes have been easier? And then I promise myself to take the easy route next time.*
Pour the chocolate out on a plate. Dip each tree in the chocolate. Swirl it around to get some up on the edges. Lay it back on the waxed paper to harden.
After they harden add a stick to each tree. You could just make them without the sticks too. I just think food on a stick is always more fun. You know, like carnival food. Those carnies know what they are doing.
Next make some garland on the trees with icing. I bought some pre-mixed red icing that hardens.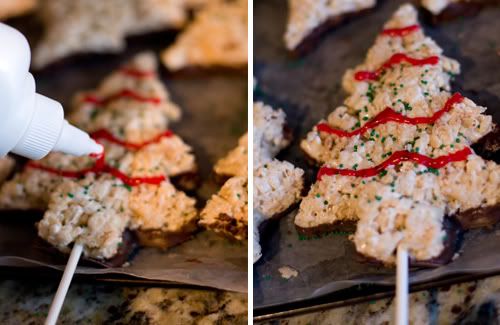 Then stick some m&m ornaments on there and voila ... Christmas tree pops...ready to be a sticky mess all over sweet chubby faces tomorrow morning.