I knew Shane Duggin in high school. I always thought he was cute. He had these huge green eyes and it seemed like he could see through me. We were friends who's circles of friends overlapped at times. When he asked me how I was doing it seemed like he actually wanted to know what the answer was. He seemed wise beyond his years even then. We ended up at the same college and our friendship grew. At times I thought we might end up together, other times I was sure I wouldn't be so lucky. After 3 years we finally started dating. I freaked out and broke up with him. I was scared I guess. He waited patiently for me to come around and I did. He asked me to marry him on a mountain peak and I couldn't believe how blessed I was. Nine years ago tonight we were dancing our first dance. And then we bought two houses, survived law school, and had two cute kids. Time flies. I still can't believe how blessed I am.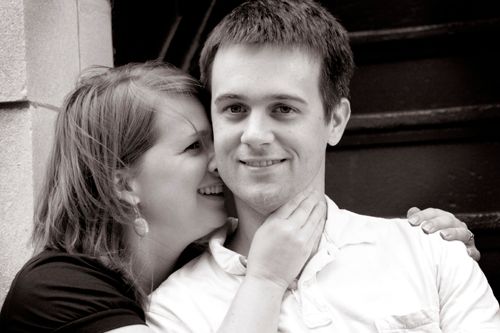 photo by the always brilliant
Jen Seris
Shane got me this awesome bus roll for Christmas (cuz I told him to) designed by
Kal Barteski
. If you don't know about Kal
check out her blog
, she is amazing. It pretty much sums up how I feel about our life together. Happy Anniversary Shane. Love you forever.